Every hunting session requires a great deal of concentration, patience, and determination, but you will not get far without carrying appropriate binoculars in your supplies bag. The best binoculars for hunting are a tool that is often overlooked, and today we are going to take a closer look at some of the best you can find in today's market.
Top-notch binoculars require a great deal of attention to detail through the manufacturing process, and since the market is swamped with these products, finding the best one may prove difficult. We did thorough research and came up with some of the best-reviewed products that we are going to present to you in the section below, so let us start.
Vortex Optics Crossfire HD Binoculars – Best Binoculars for Watching Nearby Animals and Birds
Celestron – Outland X 10×42 Binoculars – Best Binoculars for Hunding Under $100
C-eagleEye10x42 Binoculars – Best Binoculars for All Sorts of Outdoor Activities
List of Best Binoculars for Hunting – 10×42, Compact, Low Light
1. Vortex Optics Crossfire HD Binoculars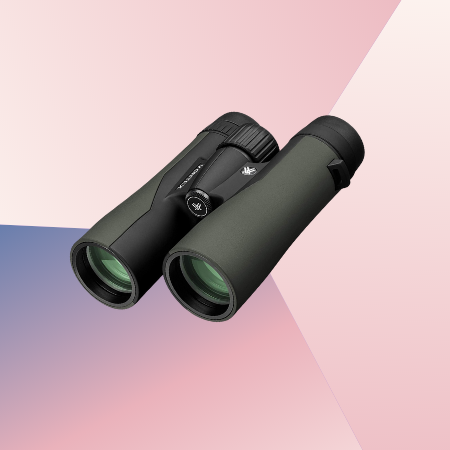 Powerful and compact, these binoculars come from the Vortex store and are available in several different styles, but today, we are taking a look at a 10×42 one. The lenses provide a clear and bright image, and the focus distance is ideal for watching nearby animals and birds.
These binoculars boast a rubber armor exterior that grants you a secure and non-slippery grip while providing extra safety and protection for the whole body of the product. Crossfire HD offers fog proof and waterproof performance, which is ideal for hunters since they will be hunting in various weather conditions.
The HD optical system ensures that you get crisp and sharp images since it is optimized to deliver superb resolution, great color fidelity, and cut chromatic aberration. It is an impressive product, and considering the features it comes with, the price is reasonable.
Pros
Excellent waterproof and fog-proof performance
Non-slip design
HD optical system
It comes with GlassPak binocular harness
Cons
Slightly heavier than some competitors
2. Celestron – Outland X 10×42 Binoculars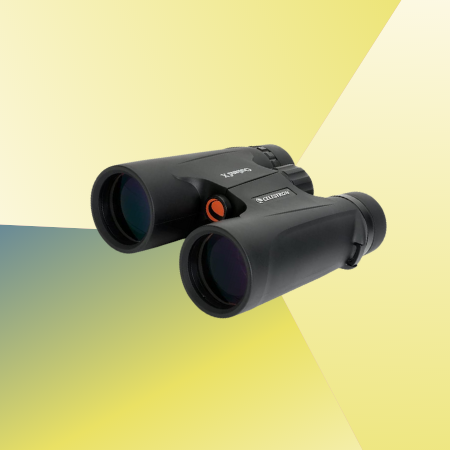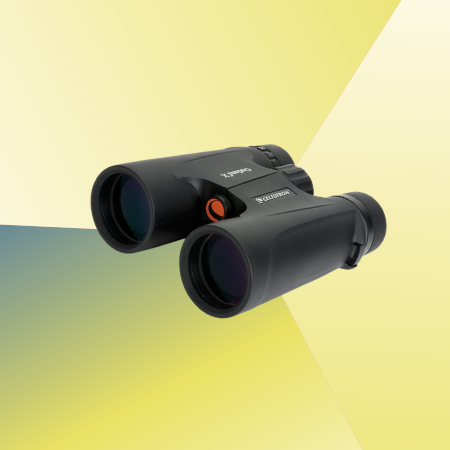 Celestron Outland X 10×42 are binoculars equipped with twist-up eyecups multi-coated lenses and are waterproof and fog proof, allowing them to perform even in harsh weather conditions. Another thing that really stands out about this product is its price since it currently stands below $100 on Amazon.
Although these are mid-sized binoculars, they have the most capabilities that full-sized binoculars can offer. They are also compact and convenient, which every hunter out there will appreciate when packing hunting gear and supplies.
The product features BAK4 prism glass with multi-coated lenses providing exceptional image quality. The binoculars are covered with protective rubber armor that provides extra durability and also looks very good. The one drawback is the lack of texture or grooves on the product's body, so it could be difficult to grip it firmly when your palms get sweaty.
Pros
Cost-efficient
Tripod adaptable
Waterproof and fog proof
Great entry-level binoculars
Cons
The eyecups are a bit stiff
No texture on binoculars body, so it is slipper
3. Kissarex 10×42 Lightweight Binoculars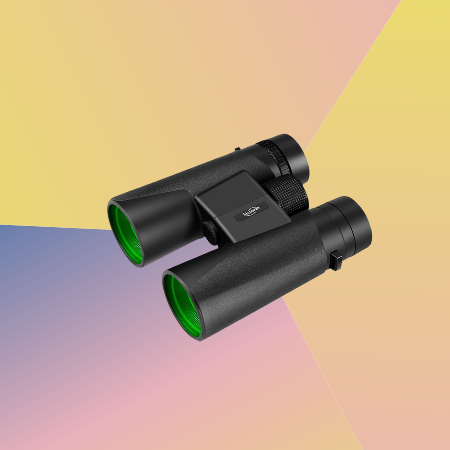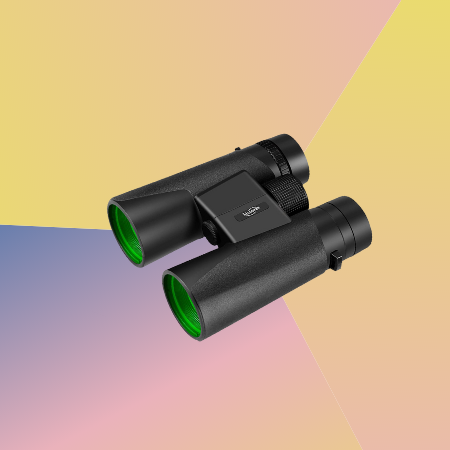 These light and compact binoculars are suitable for multiple purposes, hunting included. They come from the Kissarex store and are available in ten different colors. The product also comes with a carrying bag, hanging rope, cleaning cloth, and user manual.
It is an excellent budget pick that will not offer you professional-grade features, but it is certainly more than sufficient for bird watching and observing wild animals with a clear and sharp image. The product is made of alloy steel; it is very compact and fits in the case easily.
The field of view is at 285.4 ft, and the binoculars provide exceptional light transmission and clear images. In addition, the body of the product is covered with anti-slip rubber armor, helping you maintain a firm grip. Since it comes for a mere $19.99, it is well worth checking out.
Pros
Low price
Lightweight, small size
Durable
Wide View
Cons
Lenses might be blurry in foggy conditions
4. USCAMEL 10×42 Binoculars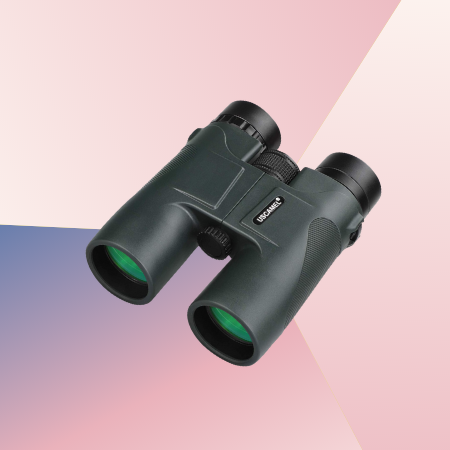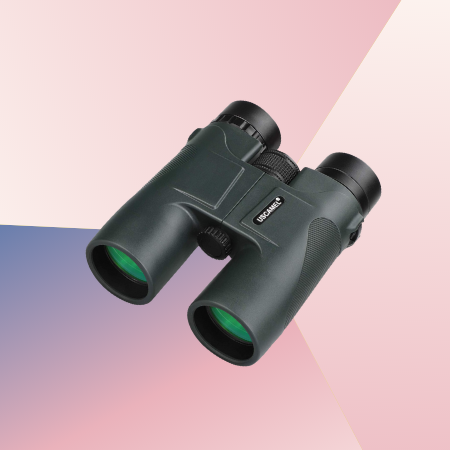 These binoculars offer 305 feet /1000 yards field of view, which is ideal for hunters, sightseers, and numerous outdoor activities. The eyepieces can be twisted up, which will provide you with decent eye distance and get you a more comfortable viewing experience.
The diameter of the eyepiece is 18 mm allowing you to see clearer images than on some other competitor products. The FMC coating and BAK4 prism enable you to view brighter and sharper images, which is a great upside considering the price of the product.
The armor of the binoculars is made of rubber, and apart from being anti-slip, it also provides excellent shock-absorption and resistance to various weather conditions. You can keep the product in good condition thanks to provided rubber eyepiece cover and lens cover protection.
Pros
Excellent FMC optics
Neck strap, carrying case, and cover for lenses and eyepiece are included
BAK4 prism
5. C-eagleEye10x42 Binoculars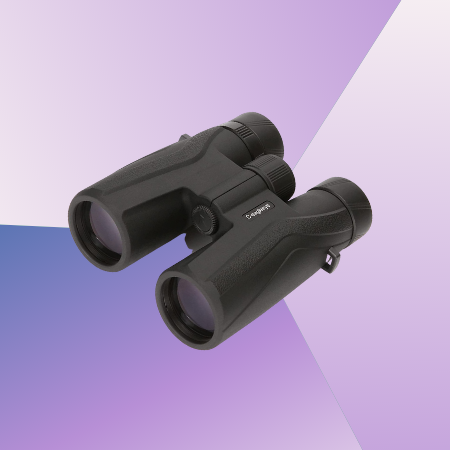 These elegant and simple to use binoculars offer 367 feet / 1000 yards field of view. They are pretty lightweight and come with a mobile phone adapter and an outdoor tactical bag, which is really practical for all sorts of outdoor activities.
The BAK4 glass lenses are coated with multi-layer FMC, which allows light transmittance at 99%, providing amazing clarity. It does an excellent job in the night but will not perform at its best in pitch-black darkness. Using camera attachment on the product is also really entertaining, and you can take some quality pictures with it.
The binoculars are a bit on the heavy side, but they are very rugged and can take quite a lot of beating. Clarity and zoom are very good considering the price, and the whole body of the product is coated with rubber, which prevents slipping if your palms get sweaty. Excellent quality for the price tag.
Pros
Durable
IPX7 waterproof and fog proof rating
Excellent optics
Large eyepiece
Read also: Best Hunting Boots
6. STELLARH 10×42 Binoculars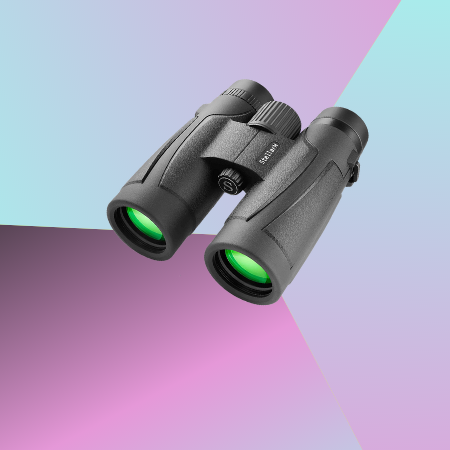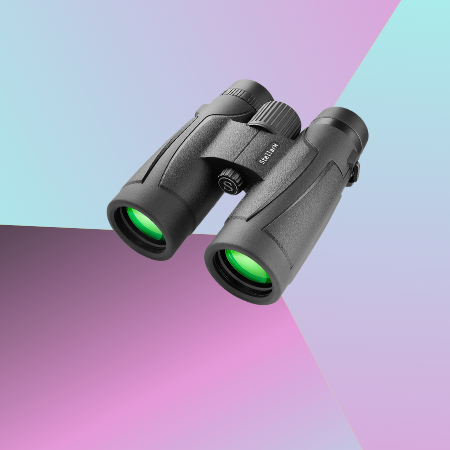 Coming from the Stellarh store, these binoculars offer exceptional value for the price. The optics work excellently, and the focus control works really well with the right amount of resistance. The product comes with multiple useful accessories that add even more value.
The thing that was a bit disappointing was the IPX3 waterproof rating, which might not be suitable for some users. On the other hand, multi-coated objective lenses and BAK4 prisms are very impressive and offer bright, sharp, and clear images.
The body of the binoculars is covered in rubber that grants extra durability and prevents it from slipping in sweaty hands. Exceptional for various outdoor activities such as hunting, stargazing, or sightseeing, this product is well worth checking out.
Pros
Multiple handy accessories included
Great focus control
Excellent clarity
Cons
IPX3 waterproof rating that might not be suitable for some users
7. Bstufar 10×42 Professional/Waterproof Fogproof Binoculars with Low Light Night Vision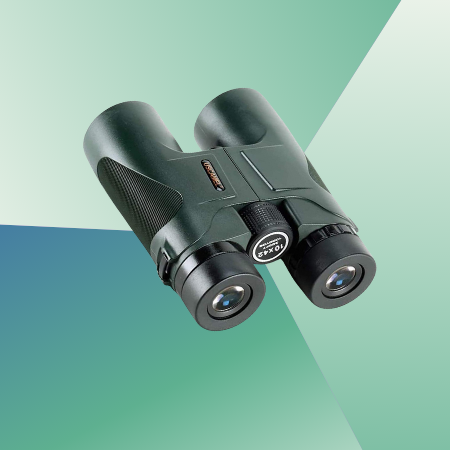 These binoculars offer exceptional weight for stability and are great for hunting since you can hold them for an extended period. They offer exceptional clarity size and are really easy to set up and use. The eyepiece can be adjusted so you can keep your eyes a bit further from the lens, which is a pretty handy feature.
The magnification is pretty good and provides a great level of detail without shaking the image, and the field of view is at 367 feet / 1000 yards. The product boasts a BAK4 FMC lens providing superb light transmission, allowing you to view much brighter images.
The structure is strong and durable, and the body is of the binoculars is covered with anti-slip rubber, which is a must for most outdoor activities. The O-ring with fog-proof coating ensures that no moisture, dust, or any type of debris gets in. Excellent power and clarity for the price.
Pros
Easy to focus
Excellent light transmission
Durable body
Cons
Might not perform best in cold weather
8. UNEGROUP Binoculars for Adults 10×42 HD Low Light Vision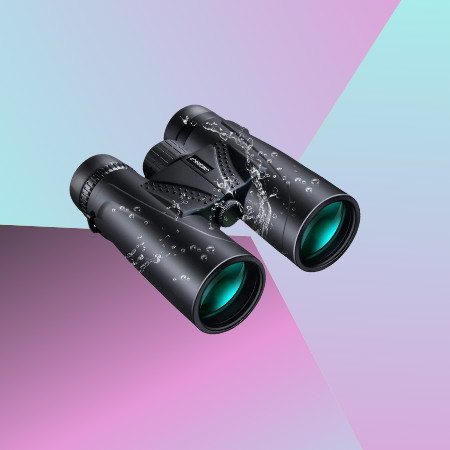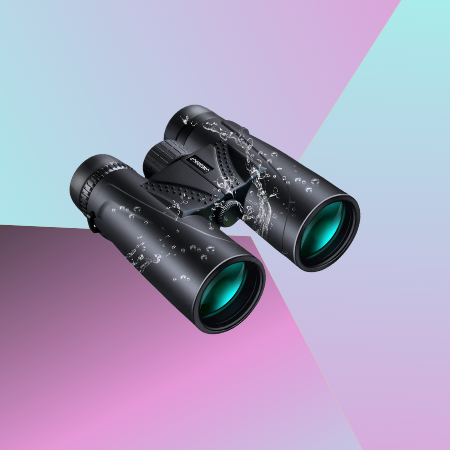 These binoculars boast incredible lowlight viewing, and you can clearly see the objects from a half-mile. They provide a sufficient waterproof rating, and since they are pretty lightweight, you can pack them easily in your carrying bag or supplies backpack.
The product produces a surprisingly good image, considering the price tag it comes with. The binoculars feature BAK4 prisms and fully coated lenses for brighter and clearer images, and it is a must-have for any outdoor activity.
The body of the product is very durable, offers great shock resistance, and has anti-slip properties. As far as focusing goes, it is nothing spectacular but does the job, and the center focus knob is upgraded with a big wheel for better precision.
Pros
The product comes with various practical accessories
Great lowlight viewing for the price
Lightweight
9. Bushnell Trophy Roof Binoculars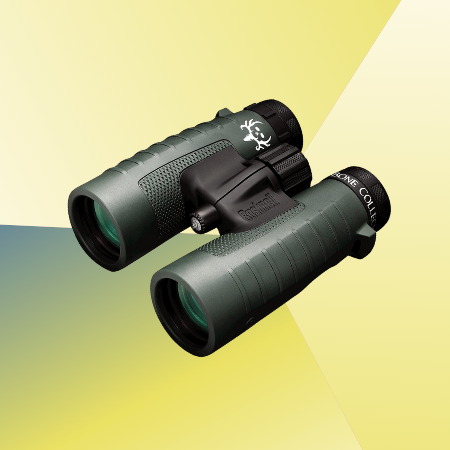 Protected by an O-ring seal and rubber housing, these binoculars are incredibly convenient and comfy to use and offer excellent durability. What adds even more to comfort level are soft-touch thumb grips. The one drawback is lens covers that might fall off often.
The field that these binoculars really shine is hunting due to their harsh weather resistance and comfort when using them for prolonged periods. The focus is suitable and, most importantly, very fast, which is very convenient when you have limited time to react.
The binoculars are a bit on the heavy side, but it is all due to sturdy and durable construction. They offer exceptional bang for your buck, and the features they possess are worthy of consideration.
Pros
Very fast focus
Durable housing
Bright optics with sharp images
Cons
A bit heavy
Lens covers might fall off often
10. NIKON Monarch M7 10×42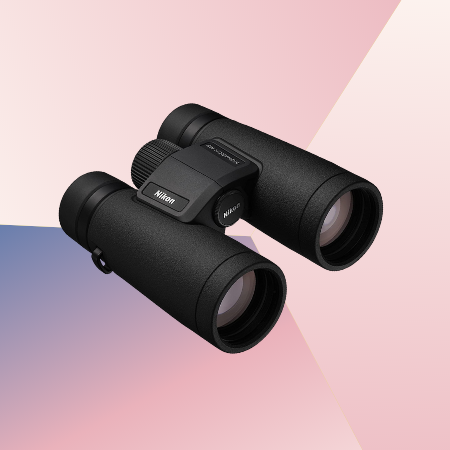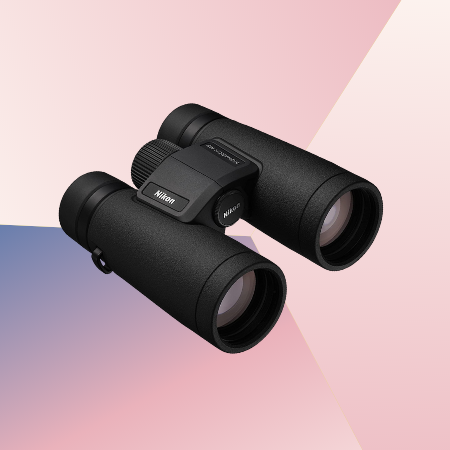 Coming from the world-renowned company NIKON, Monarch M7 is an exceptional choice for entry to mid-range price points. Although these binoculars come at a higher price than the rest of the products on the list, they are worthy of consideration due to the quality of features they possess.
This product excels in low-light situations, making it an excellent pick for hunting. In addition, the binoculars are filled with nitrogen and O-ring sealed, which adds to water resistance, which is very convenient when hunting in damp and harsh weather conditions.
Although the body of the binoculars is rubberized and coated for protection, it is surprisingly lightweight. Moreover, the rubber on the body has anti-skid properties, making the product much easier to hold in the rain. Monarch is an exceptional choice for hunting and is worth checking out.
Pros
Excellent optics
Great performance in dawn and dusk
330' field of view
Waterproof
Read also: Best Blood Tracking Flashlight
Things to Consider When Buying Low Light Binoculars for Hunting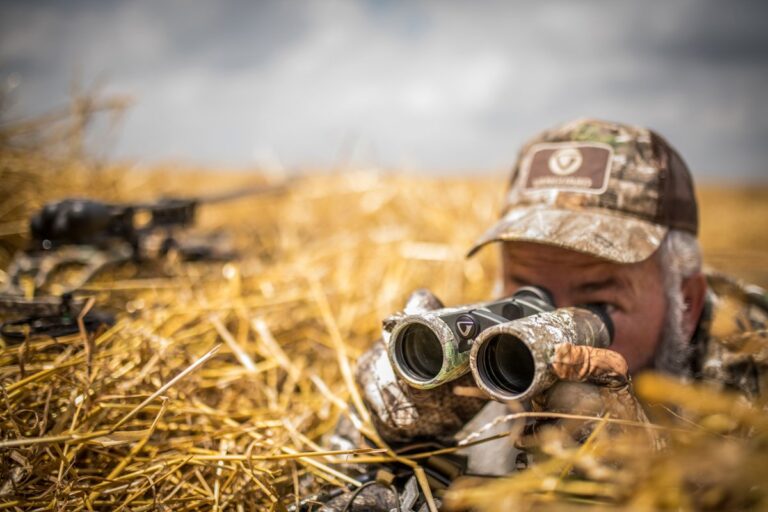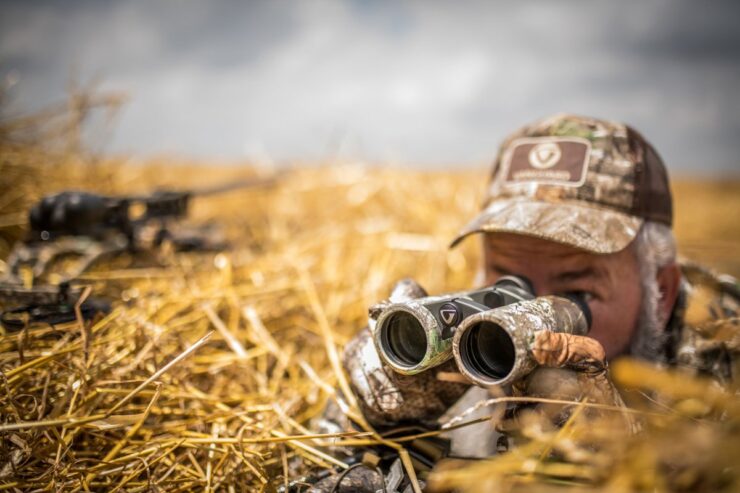 That wraps up our list of the best binoculars. However, before spending any money, it is crucial to consider the most important features every low light hunting binoculars should possess. To help you with this endeavor, we have put together a list of guidelines you should follow in the section below.
Field of View
The field of view or FOV refers to the amount of horizontal space you can see edge to edge from 1000 yards away. The FOV changes with magnification.
For example, higher magnification results in a narrow field of view, so you should determine how much magnification do you require before spending any money.
Magnifying Power
This is a very important aspect to think about since magnification refers to enlarging the ability of binoculars to see objects in distance closer.
However, higher magnification results in smaller exit pupils, which directly affects seeing at night. This is why you might want to consider lower magnification for your low light hunting binoculars.
Resistance to Harsh Weather Conditions
This is one of the more obvious points and considerations when buying this product. Given that this is an outdoor product, it is crucial that it can resist foggy and damp weather since these are conditions in which you will be hunting often.
Eye Relief
The eye relief refers to the maximum distance from the eyepiece you can see. This is very important for users that wear eyeglasses, and they should opt for binoculars that have a minimum length of eye relief at 13 mm or more.
Read also: Best Knives for Deer, Elk and Wild Game
Frequently Asked Questions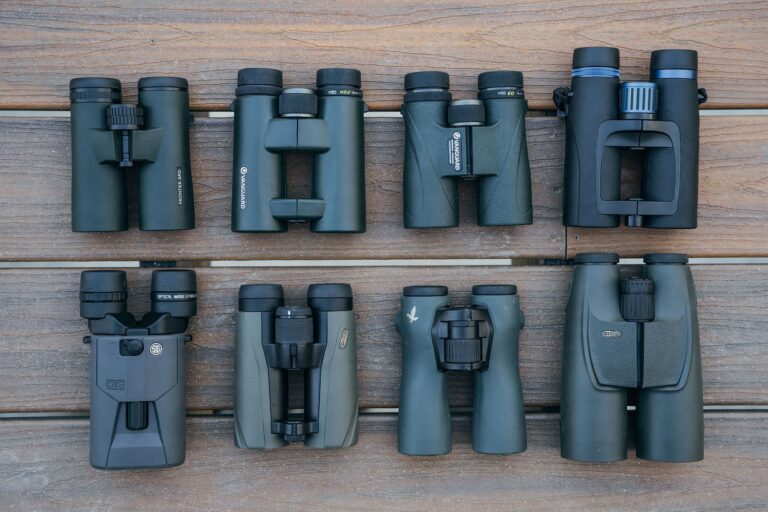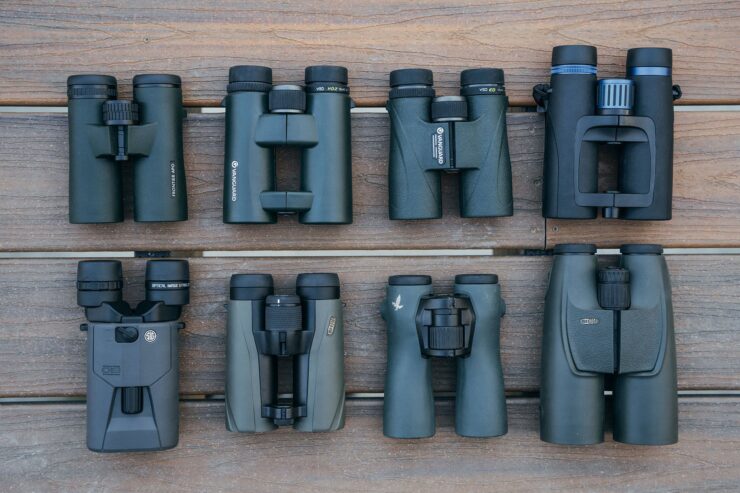 Why are low-light binoculars good for hunting?
Low-light binoculars are a perfect choice for hunting due to their high light transmission rates and are constructed to give you as much light as possible. This is important since more light means you will be able to spot your prey at night.
Can people that wear sunglasses use binoculars?
Yes, they can. However, they should opt for binoculars that have long eye relief. This is the distance between the eyepiece and the user's eye, and it should be at least 13 mm.
What should I consider when buying binoculars for hunting?
A quality pair of binoculars should provide you with a crystal-clear image and a great field of view. They should be water, dust, and fog-resistant and made of durable materials that are anti-slippery and can endure various weather conditions.
What does 10×42 stand for?
The number 10 stands for the magnification strength, while the number 42 refers to the objective lens size in millimeters.
How to clean binoculars for hunting?
The first thing you should do is to get rid of debris from the lenses. You can use a lens blower or fine-haired brush for this. After you do so, rinse them with lukewarm water and use a lint-free cloth to wipe them gently.
Final Words
These were the top 10 hunting binoculars in 2023. We hope our article will help you make the right choice and pick the product that will satisfy your needs and fit your budget limitations. There are some cheaper and some more expensive products you will find on the list, so there is something for everyone.
When buying binoculars, always think about the quality of the glass, durability, performance, and of course, your budget. Look for second opinions and customer reviews and ratings online, and you will, without any doubt, find a suitable product.
If these weren't enough, check out some other picks from Amazon also: