Camping, traveling, repairing electricity, or replacing a tire, the light bar stands tall to illuminate every space you need some light for.
Here is an in-depth Bell and Howell Light Bar review to help you decide whether or not you should choose to buy the product. 
With a surface of 60 LED bulbs and 720 Lumens of powers, Light Bar is an energy-efficient device. It has a long battery and never heats up. It doesn't need to be plugged into a power socket to function.
Safe and convenient to use, The Light Bar is a must-have for anyone and everyone. Light Bar comes with an attached foldable stand and a hanger making it suitable for various usage.
Product design done while keeping the user's convenience in mind is of great help. The Light Bar comes with an Off/On switch, a foldable stand, and a hanger.
Bell and Howell Light Bar Review 2023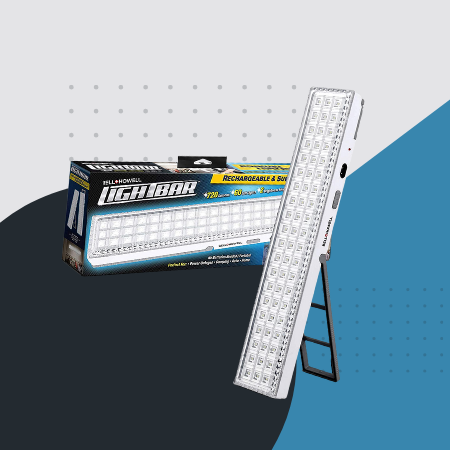 The light bar comes in three colors, namely black, white and grey.
Its aesthetic design intends to illuminate the most stylish spaces around the house, or just anywhere you simultaneously need portable light and finesse.
Let's discuss the features in detail…
1) It comes with two different modes
The Light Bar comes with 2 Brightness Settings suitable for different light requirements –
Insane Brightness Mode is for brighter and better visibility.
Bright Mode is for less bright lighting. If you need light for an utterly dark area, you can use the Insane Brightness Mode.
If you need extra light in a space that is already partially illuminated, you can use the simple, relatively less bright brightness mode.
2) It is Rechargeable
The Light Bar is rechargeable, and it comes with a built-in rechargeable battery. It can last for upto 24 hours after it has been fully charged.
It comes with an AC adapter that is used for charging it.
Battery life as long as light bars make it suitable for camps or travels of longer durations. As long as you can find a power socket within 24 hours, you are good to go.
3) It is Energy Efficient
The Light Bar is energy efficient, which means that it uses up less energy or power and produces lesser heat than other light bulbs.
It saves up energy and consequently reduces GHG or greenhouse gas emissions, reducing pollution, thereby making it environment friendly.
Requiring less energy to function is what essentially contributes to its remarkable battery life.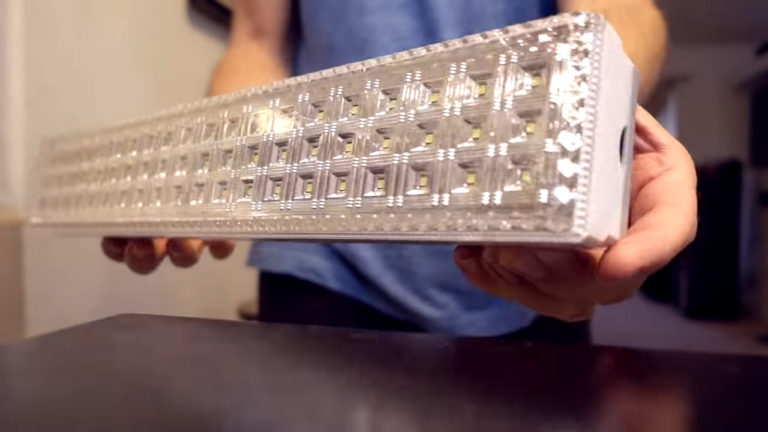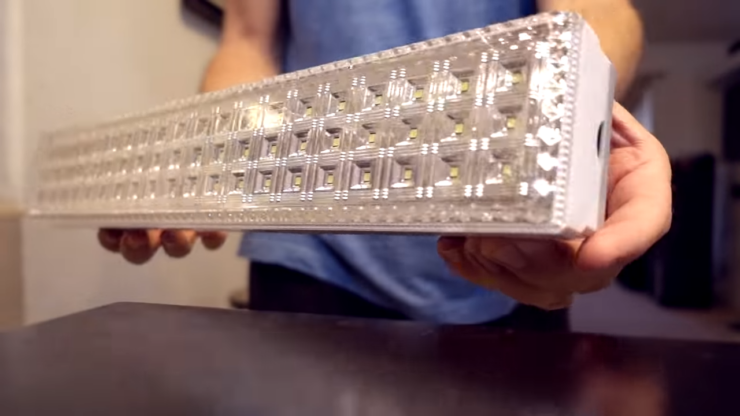 4) It is Super Bright
The Light Bar is an emergency design made up of 60 separate LEDs (Light-Emitting Diodes). 
Literally, it gives out relatively better light, unlike other usual light bulbs with single or dual LEDs. Its 60 illuminated LEDs give out a sharp and bright light whenever used.
The brightness, however, is adjustable and can be switched back and forth between two modes of Brightness and Insane Brightness.
5) It is a Portable
The Light Bar comes with an attached foldable stand and an attached hanger.
Since it does not need to be inserted in a socket to function, it is perfect for outdoor usage, including traveling at night, repairing, or working on something outside the house.
However, the light is also perfect for illuminating areas inside the house that are either absolutely dark or lack light.
The Light Bar can be put to use inside wardrobes, close to room corners, on car tops while repairing or checking its engine, on the road at night for repairing the car, or replacing a tire in an area, not well-lit.
6) It has a Stylish Design
The Lightbar is sleek in design and can be used in the most aesthetic spaces of the house and anywhere else.
Drawing rooms, bedrooms, kitchens, bathrooms, decks are some of the many places that can use the Light Bar for additional light without the said source of light seeming too out of place wherever it is kept.
It can also be placed or put to use above wardrobes, fridges, dining tables, etc.
7) It is Lightweight
The light bar is thin and lightweight. It weighs 1 lb and is 16.5 inches long.
This Bell & Howell Light Bar's length and weight make it the perfect source of portable light a household or an office can have.
Its lightweight body makes it easy-to-use in day to day activities, and people of all ages can use it conveniently.
8) User Experience Centered Design
An average flashlight is simply no match for a Light Bar, for it is made to keep in mind the experience of the user of the product.
The Light Bar comes with a rechargeable battery that has an extremely long battery life, an OFF/ON switch, a power indicator, an outlet mode, and many other features that could contribute to the convenience of a consumer.
Buying Considerations about Our Bell and Howell Light Bar Review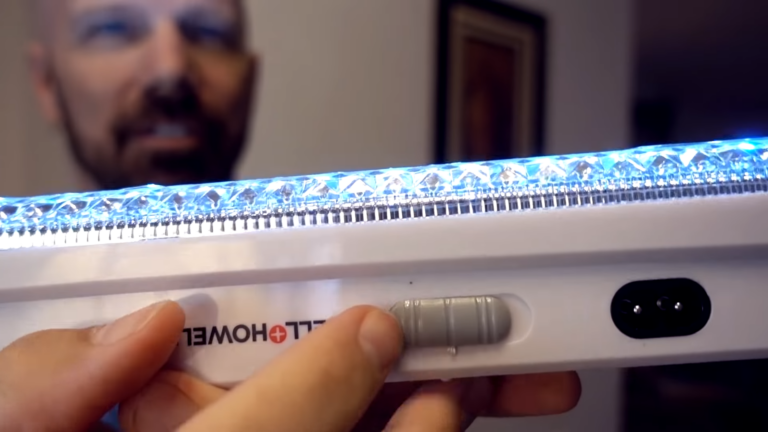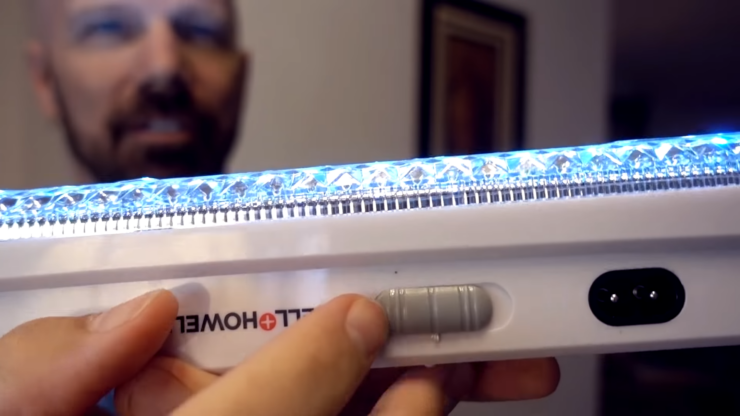 The Bell and Howell Portable Light Bar is not simply an alternative for a flashlight but is a lot more than that. 
Energy Efficiency
It comes with 60 LEDs and 720 Lumens. It is energy-efficient, which means that it utilizes less energy and releases less heat.
The energy efficiency of the light bar is also primarily responsible for its extremely long battery life. 
Battery Life
It has a battery life that lasts over 24 hours once fully charged.
However, upon buying the product at first, the light bar needs to be charged for 25 continuous hours before it is fully charged for use.
When the batter has died, it can be charged for another 25 hours and function for the next 24 hours that follow the charging. 
Portability
The device's portability is made even more convenient by the foldable handle or stands that it comes with.
To use it for longer durations, one does not need to hold it or make another person keep holding it for hours at a stretch. 
Brightness Modes
The light comes with two different modes of Brightness to choose from that vary depending upon the amount of light you need.
In case you need the light bar to illuminate an area with absolutely no other source of light or very little light, you switch to the insane Brightness mode.
If you wish to use the light bar simply as a source of additional light in an already illuminated space, you can use the normal brightness mode. 
Additional Features
Other than the two modes, the light bar also has other features like an OFF/ON switch, a charging indicator, an auto-sensing machine, an outlet port, etc.
The light bar is lightweight and fairly thin and can be conveniently used by people of all ages and abilities.
Its design is elegant and can suit almost any surroundings. Bedside tables, center tables, writing or working desks, wardrobes, etc., are places inside the house that can utilize the light bar.
Top Notch Benefits of LED Light Bars
When you are upgrading your off-road vehicle, lighting plays an important role.
You can start over with LED (Light-Emitting Diodes) and longer-lasting light bars like Bell and Howell to improve the overall safety as well as visibility of the off-road vehicle –right before dusk.
Moreover, you can discover the major benefits of LED light bars for determining of the lighting of your vehicle is safe and compliant. 
Benefits of LED Lighting with Light Bars
One of the major reasons why customers prefer the option of LED lighting is for minimizing the overall risk of non-compliance.
You would not like to get a ticket by the local police or the driving inspector of the Department of Transportation because of the absence of proper lighting. 
In addition to this, you would also like to avoid accidents as well as risks to your overall safety along with the safety of others because of improper lighting.
The utilization of LED light bars is useful for seeing ahead more clearly –right before dusk and during night-time driving. 
LED light bars like that of Bell and Howell tend to be lightweight as well as durable.
Therefore, these make the ideal option for your off-road vehicle wherein balance turns out to be more important. As per the industry experts, it is believed that LED light bars turn out to be especially useful for off-road vehicles. 
LED light bars like Bell and Howell are also known to be energy-efficient.
This implies that you can save money by replacing the light bulbs and fixtures less frequently over the entire vehicle's lifespan. Based on your specific requirements, you should search for the right LED light bar.
You can think about purchasing Bell and Howell light bars for optimum efficiency and ease of driving or camping. 
FAQs for the Best Bell and Howell Light Bar Review
1) Can I leave it plugged in and use it on SOS mode forever?
Continuous charging is said to have dimmed the brightness of the product. Keeping it plugged in is not advisable, for it already has very long battery life.
2) What kind of rechargeable battery does it use? Lithium-Ion or Lead Acid?
The light bar runs on two lead-acid batteries.
3) Does the charging indicator red light go out after the light bar has been fully charged/after 25 hours of charging?
The red light on the side of the light bar is simply an indicator of the battery being charged or connected to a power socket and hence does not go off when fully charged.
4) Is the light waterproof? Can it be used around areas where water is being used?
The Light Bar hasn't yet shown any signs of failure upon coming in contact with a little amount of water. No proof of it being waterproof has been provided yet.
5) How long can the Light Bar go without charging?
Once the light bar has been fully charged, it can be used for nearly 24 hours continually. It takes about 25 hours of continuous charging to charge the light bar completely.
6) Does the Light Bar come with a stand?
The Light Bar comes with an in-built stand that is foldable. The stand is attached to the back of the light bar's body and makes it a conveniently portable source of light.
7) Can the light bar be mounted on a wall or a ceiling?
The Light Bar comes with a hanger and can therefore be mounted anywhere. It, however, needs to be taken down within every 24 hours to charge it.
8) Can I order a charging cable separately?
There has been no information about the company selling separate charging cables for the light bars.
9) The commercials claim that the light bar does not require a battery, but the packet reads that it requires 1 12 volts battery? Does it require a battery or not?
The light bar comes with an in-built battery. No battery required means that there is no need to repeatedly buy separate batteries for the device as it is a rechargeable one.
10) Does the box of one unit or two?
Each Box of the light bar carries a single unit. Unless you have ordered two packets, you'll only receive one of the device's units.
Bell and Howell Light Bar Review: Every Single Details
Conclusion
The Light Bar is thin in design, and it consequently looks well and is extremely convenient to use. It comes with multiple brightness modes to switch back and forth between varying with the amount of light required in a space or situation.
However, it comes with a folding stand attached to the back of its body. That makes it even more comfortable to use.
For one is not supposed to keep holding it even when doing strenuous tasks that require undivided effort and the usage of both hands.
Since the Light Bar is rechargeable, it doesn't need repetitive maintenance involving regularly changing batteries. The light bar is built in a design meant to complement aesthetic spaces both inside and outside the house.
It comes with 60 LEDs, an OFF/ON switch, an outlet port, a power indicator, an auto-sensing machine, and many other features that can make the user experience better.