In order to get the meat from the animal in a healthy and delicious state, you have to prepare it and skin it first, and you require the best skinning knives for deer, elk & wild game to do so. It is every hunter's best friend and a must-have tool on a belt, kit, or carrying bag, and today we are going to discuss some of the best skinning knives you can find in today's market.
Now, you are probably wondering what makes a good skinning knife? What are the best and most reliable brands out there? Worry not, because we will try to give you the answers to all these questions. We did thorough research and came up with a list of some of the best-reviewed products in the section below. So, without further redo, let us get started.
List of Best Skinning Knives for Deer, Elk & Wild Game
1. Buck Knives 119 Special Knife, Phenolic Handle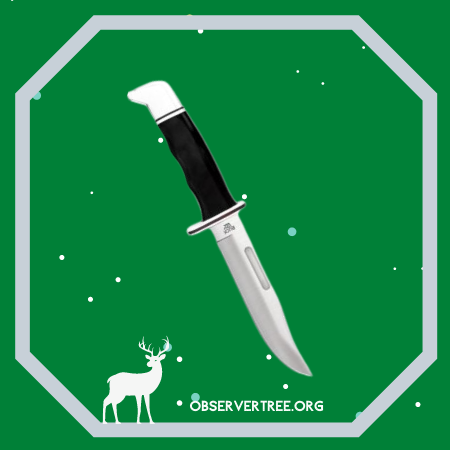 This skinning knife comes from the Buck Knives store and weighs a mere 0.5 pounds. Convenient sharp, and well-made, this product is something that every big game hunter should possess in their kit.
It provides every user with superb strength, retention, and corrosion resistance, which is very important if you plan to use it in damp conditions. The knife is very durable and a perfect choice for piercing, detailed work, skinning, and numerous other uses.
The handle provides you with a comfy and confident grip, and the pommel is made of aluminum, making it perfectly balanced and visually appealing. The knife comes with a protective leather sheat and snaps fastener, making the use and storage easy and safe. Superb in quality and cost-efficient, this knife is well worth checking out.
2. Outdoor Edge RazorLite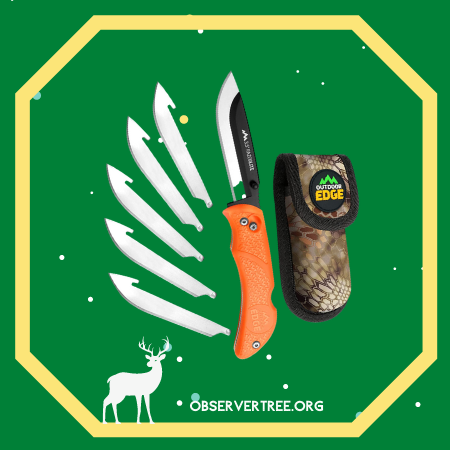 Coming from the Outdoor Edge store, this hunting knife is available for purchase in various color options and provides superb quality and sharp edges. It offers all the necessary things you expect – a sharp blade, convenient handle, and quality user experience.
The first thing you will notice right out of the box is that this knife is pretty lightweight. It is really important since when you are packing your bags for hunting, every single ounce counts. You can bring it with all replacement blades easily and conveniently.
The replaceable blades are very simple to remove with your thumb and finger, so you will not have to bring pilers. The blade release button requires you to apply quite a lot of pressure, so you will not accidentally pull it out and hurt yourself. A quality and durable product that comes at an affordable price on top of everything.
3. Mossy Oak Fixed Blade Hunting Knife Set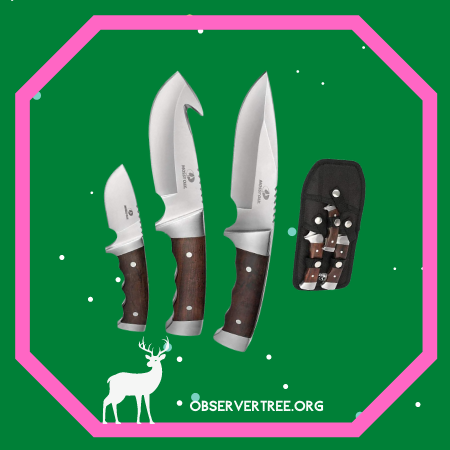 This 3 piece hunting knife set comes from the Mossy Oak store is, and it is a perfect choice for hunters. The whole set is affordable, the knives can easily be sharpened in the field, and the blades are well-made.
The skinning knife features a very convenient handle, and the blades are made of stainless steel. All knives from the set are beautifully crafted, and not only do they look very appealing, but they also do an excellent job, whether you are skinning the animal or using it for any other purpose.
The handles look very well-constructed, and the knife also features six anti-skid grooves on the back. Overall these are very solid knives, and the case that it arrives with can perfectly fit in any carrying bag. Excellent for hunting, camping, or any other type of outdoor activity.
4. Elk Ridge Trademark Stainless Steel Hunting Knife with Leather Sheath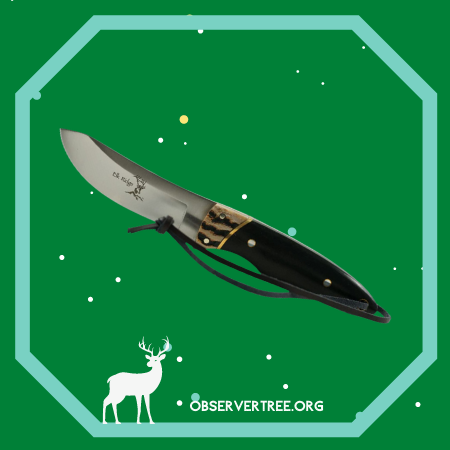 Beautifully designed, functional, and convenient, this knife is a product from the Elk Ridge store, and it is incredibly compact and strong. Apart from a visually appealing look, this product is a must-have tool in every hunter carrying bag.
The blade is excellent, and once it is sharpened is fit for any type of outdoor activity and is especially handy during hunting. It is made of stainless steel, while the handle is made of wood with a bone insert. Very easy to grip and hold.
The knife also comes with a leather sheath for extra convenience. Maintaining it is very simple with sharpening stone, water, and soapy water. Always dry it thoroughly and never return the blate into the sheath wet. On top of everything, it comes at a very affordable $24, and considering the value you get; it is an absolute bargain.
5. Handmade Damascus Steel Hunting and Skinning Knife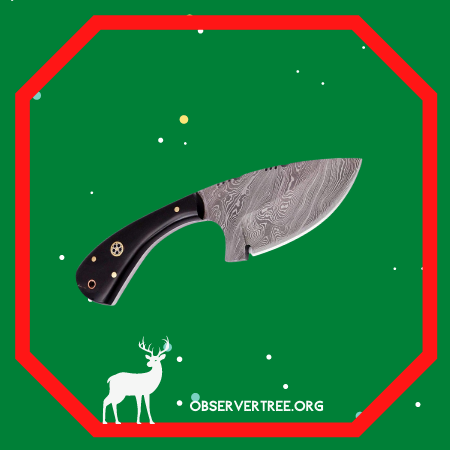 This handmade hunting and skinning knife is one of the best you can find on Amazon nowadays. It is sturdy, well-built, and perfect for big game hunters. Apart from its functionality, it is also a good-looking knife and comes at a very affordable price.
The handle of this product is made with a bull horn, and it arrives with a leather sheath for extra convenience and protection. The maintenance is pretty straightforward but necessary to avoid rusting and decline in the blade's quality.
The blade itself is 3.5 inches long, while the whole knife stands at 7 inches. With this product, skinning feels very easy, even for beginner hunters, since Damascus steel cuts through meat like butter. It is nicely crafted, and right out of the box, you can notice the attention to detail that manufacturers put in it. Solid and sharp, this knife is well worth checking out.
Read also: Best Blood Tracking Flashlight
6. Field Dressing Kit for Hunters, Anglers, 3-Piece Skinning Knives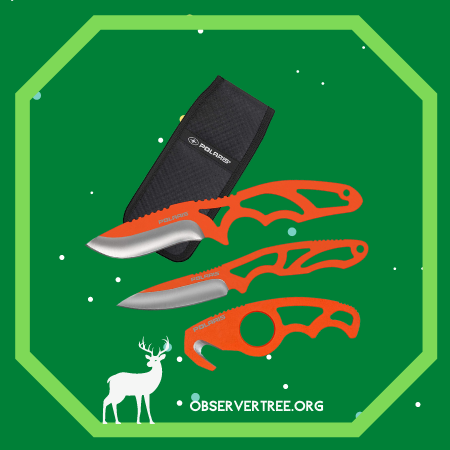 Sharp, compact, and lightweight, right out of the box, this set of knives is perfect for various outdoor uses, especially for skinning. The set comes with a storage pouch that features a zippered compartment, allowing you to easily store your hunting tools and goods.
The grips of the knives are truly superb. Even with wet hands, the knife will not slip out of your hands, which makes the whole skinning process fairly easy. The knives are also pretty lightweight, which bears huge importance when packing a full bag of hunting supplies.
The orange color makes detecting a knife in the dark fairly easy, so you do not have to worry about losing it. The skinning knife is 8-inch long, which is more or less a standard length for this type of product. Affordable, convenient, and compact, these knives are superb solutions for skinning big game meat and simple uses such as gutting the fish.
7. Lancergear Field Dressing Kit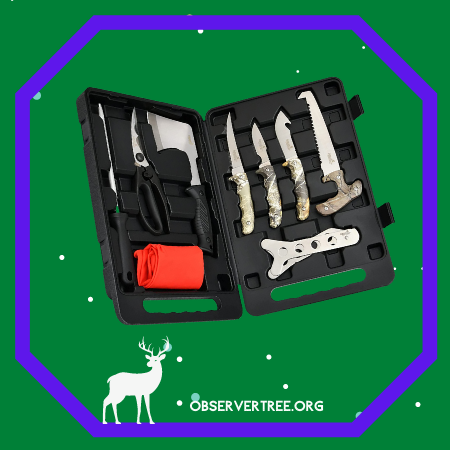 This hunting knife set comes from the Lancergear store, and it is available in four colors for you to choose from. The handle is very convenient and made of polypropylene, while the blade is made of rustproof, hard stainless steel.
The set consists of wood & bone saw, butcher knife, caping knife, game shears, boning knife, steel brisket spreader, knife sharpener, caping knife, and the most important for today's topic, gut hook skinner.
The knife does an excellent job for big game meat, and it is durable, sharp, and compact. It is very easy to use, and the handle fits nicely. The maintenance is pretty straightforward, and provided case protects its content efficiently. An Excellent set and great value for the money.
8. FieldTorq Bone Cutting Hunting & Skinning Knife for Deer Bear Elk Hogs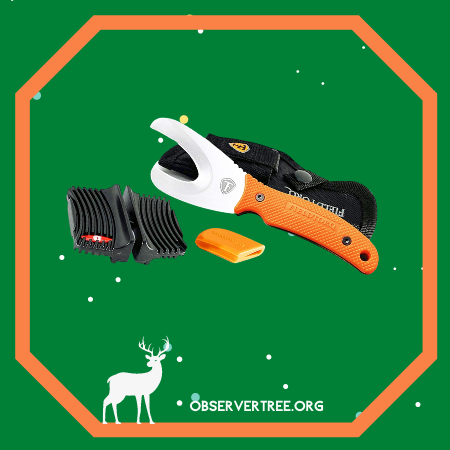 Coming from the FieldTorq Knives store, this product is, hands down, one of the most efficient skinning knives out there. With its reinforced nylon handle with anti-slip properties and high stainless carbon, it makes skinning and the whole hunting experience much more convenient and easier.
This is one of the safest knives to use from our list since its anti-slip features are second to none. It is a well-made unit with a very solid build. You should probably opt for the one with an orange handle since it is much easier to detect if it drops on the ground.
Although it is very easy to use, you will get a better feel after several uses. The blade is really sharp, and the outside edge is designed to prevent you from cutting hands when field-dressing a deer. It is a fantastic tool that every hunter should carry in their supplies bag.
9. Elk Ridge Black Stainless Steel Skinner and Gut Hook Blades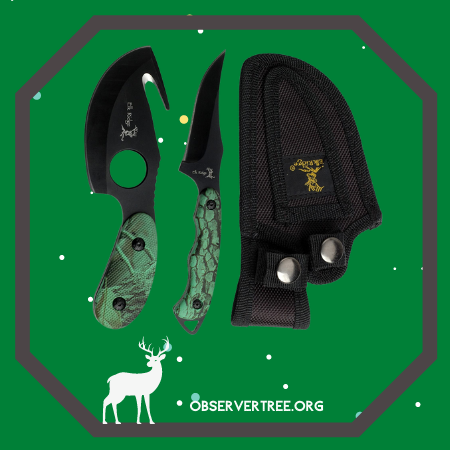 No list for skinning knives can be complete without at least a couple of Elk Ridge's products, and this set possesses everything you require. At first glance, you will likely think that this is a set of cheap knives; however, they are very well-built, and the handles are comfy.
The blades are made of stainless steel and are very sharp right out of the box. The handling, price, and comfort are high-end, and the overall look and visual appearance do not fall behind either. The only drawback is the fact that you need to sharpen the blades a bit more often, but it does not really present a huge issue.
The product is very durable, and after over a hundred skinnings, it is still doing a phenomenal job and going very strong. The handles are made of nylon fiber and feel very comfy and non-slippery. The sheath is also included in the set, and considering everything you get in it; this is a real bargain for the price you are paying.
10. Outdoor Edge WildSkin – Fixed Blade Gut-Hook Skinning Knife for Big Game Hunting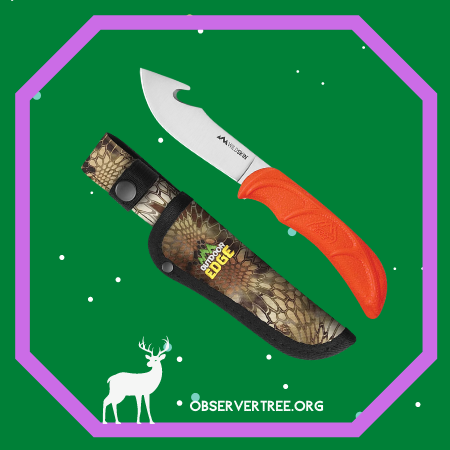 Coming from the Outdoor Edge store, this fixed blade offers every important feature you require out of a skinning knife. The size and the look are very compact; it is lightweight and can easily be packed in with the rest of your hunting supplies without taking too much space.
It is really sharp upon arrival and handles pretty well, so you will not need extra time to get used to it. For handle material, this knife uses rubberized orange non-slip TPR, which is really easy to detect if you accidentally drop it on the ground.
The blade itself is made of high-quality stainless steel, and once sharpened, it does a great job for big game and small-time skinning too. It, of course, comes with a sheath and keeps your blade dry and well-protected all the time. Since it comes at a very low price, it is well worth checking out.
Things to Consider When Buying Skinning Knives for Deer, Elk & Wild Game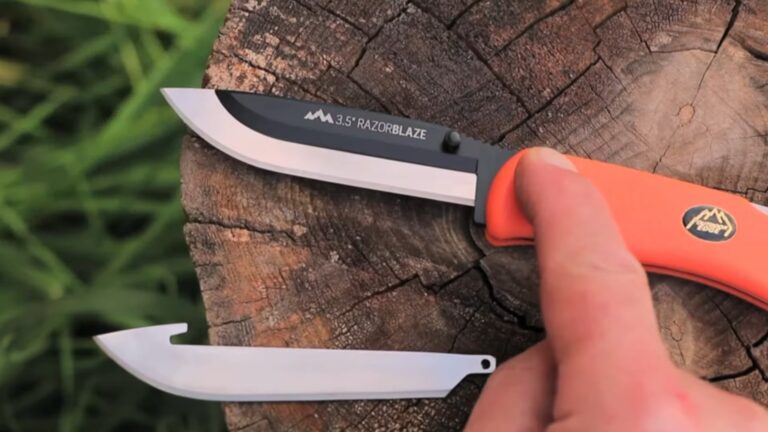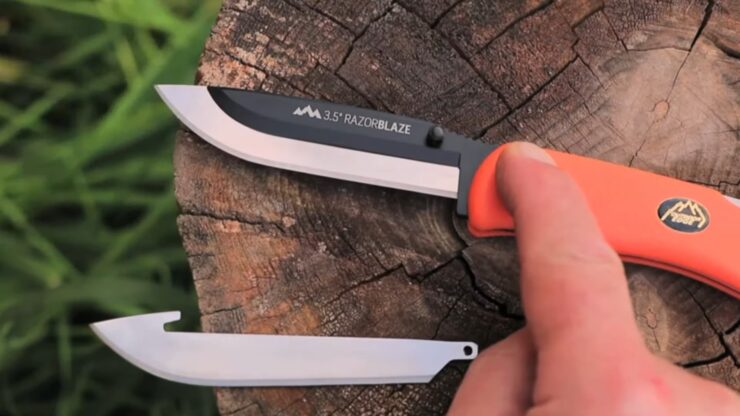 When buying a skinning knife, you should pay attention to tiny features that add value to it. Although most of the products we have listed are affordable, that is no reason to waste the money. In order to help you pick the best, we have put together the list of things that make a great skinning knife in the section below.
Design
The design of the blade is one of the important things that affect your overall skinning performance. The one you will pick is entirely depending on your preference since there are curved and straight blades. We personally prefer curved ones since they are much easier to handle and typically bring great results.
Type of Game
Since these knives come in various shapes and lengths, you need to consider what type of game you will need them for. For example, the skinning knife that works well for rabbits or other smaller animals will not work for mooses, elks, or deers.
Blade Length
Skinning knives do not need to be particularly long. For a big game such as elk or deer, you will require a seven or eight inches long blade. This length is just right, and it will give you suitable performance while handling the blade.
Handle
The material of the handle is very important when it comes to skinning knives. It has to be non-slippery, so you can grip it comfortably and do the job adequately. Look for the knives that offer handles made of quality wood, rubber, or reinforced nylon.
Durability
The durability of the knife is something that is hard to estimate by simply looking at it. You should look for second opinions or read customer reviews to find out whether or not the knife is durable enough and if it is a worthy investment.
Frequently Asked Questions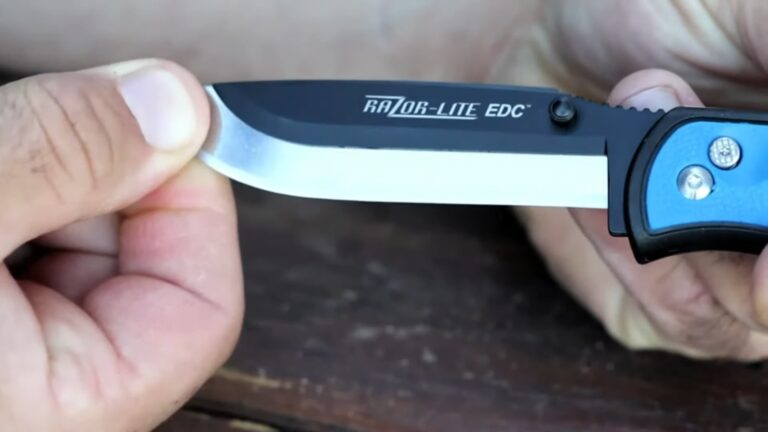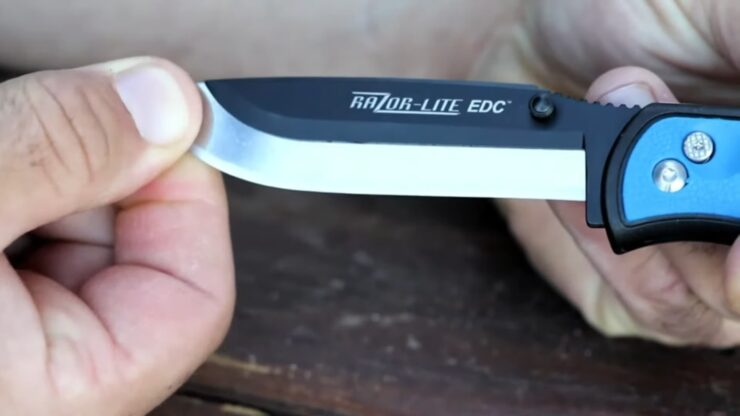 How to keep my skinning knife sharp?
There is no special trick to keep the skinning knife sharpened other than using the sharpening stone and doing so under the right angle. Avoid changing the angle of the edge while sharpening, and you should be fine.
Which one is the better fixed or folding blade?
It largely depends on your personal preferences. Some hunters prefer both at the same time since they can use foldable to cut around the abdomen and fixed to remove the hide.
Which brands make the best skinning knives?
All products that we have listed come from trusted and world-renowned brands. Some of the more popular are Elk Ridge, Buck, Gerber, and Mossy Oak.
What type of knife is best for skinning wild game?
For the best results in skinning a wild game, you should look for thick and curved knives. These knives allow you to quickly and neatly separate the skin from the meat. The knife should be fairly agile, have a non-serrated blade, and be razor-sharp.
What is the difference between skinning and caping knife?
Caping knives are much better suited for doing small, controlled, and more precise work. They come with smaller blades with an exact point. Skinning knives, on the other hand, are better suited for skinning big game.
Is a curved skinning knife necessary?
It is not necessary, but curved knives are much more convenient. With the skinning knife that is not curved, you risk driving the pointed end through the hide and ruining the cut.
Final Words
This wraps up our guide for the best skinning knives. We hope our article will help you get the best product for your money's worth. Keep in mind the essential features we have listed, buy within your budget, and you will surely find the knife that will suit you.
Also, consider looking for second opinions and reading reviews to make a more educated choice. Look for durability, sharpness, comfort, and maneuverability, and without any doubt, you will pick adequately.
Check out some other picks from Amazon also: