A quality pair of hunting boots is alongside a suitable hunting knife, a piece of equipment that is often overlooked but waiting a couple of hours in cold weather, and you will start thinking about dry and comfy footwear. A good pair is great for hunting, but it also protects your feet and keeps you healthy.
Various boot types are suitable for different situations. There are pairs that are suitable for cold weather, while others might be better for upland bird hunters. Luckily, today's market is flooded with these products, and today we will take a look at some of the best hunting boots you can find.
We did research and came up with some of the best-reviewed hunting footwear, which we will present in the section below. So without further delay, let us get started.
List of Best Hunting Boots for Cold-Weather, Rubber + Upland
1. Timberland Men's Leather Mt. Maddsen Boot – Editor's Pick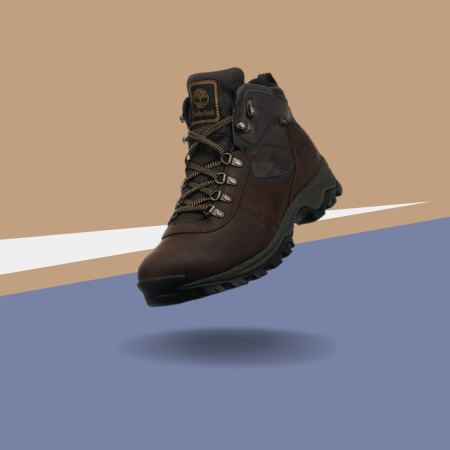 Timberland's Mt. Maddsen are boots that are greatly appreciated throughout the hunting and hiking community due to their superb comfort. They are lightweight and versatile, which is what every hunter will welcome. They are available in six colors and a variety of sizes.
This pair is able to tackle pretty much any terrain since they are waterproof and provide superb traction. In addition, they feature anti-fatigue technology, which adds even more to their superb comfort.
The rubber outsole provides grip for various surfaces, so it is an excellent choice for hunters that plan to hunt in damp and slippery conditions.
The cushioning is lightweight since Mt. Maddsen boasts an EVA midsole. What these boots do lack, according to many reviewers, what these boots lack is durability, but their comfy interior and grippy exterior are something that mostly nullifies this drawback.
Pros
Comfortable interior
Highly versatile
Great arch support
Waterproof
Superb grip
2. Timberland Men's Earthkeepers – Best for Hunting & Hiking
These are stylish, mid-weight, and built with sustainable materials. They are available in four colors and a variety of sizes, so you can definitely choose a suitable pair. Apart from their beautiful look, they also provide superb comfort and traction.
Earthkeepers are excellent all-around boots that can be used during hiking and hunting, but they can also be suitable for everyday wear with their stylish look.
The important thing to note is that they run a half to a full size too large, so before purchasing, make sure to get the measurements right.
The dark rubber sole provides excellent grip and is suitable for slippery environmental conditions. They are made with full-grain leather, and the texture is really soft.
Earthkeepers pick up scratches pretty easily, but it is nothing that you cannot buff out with your thumb. Although this means that they will look worn out after several months, it is still a worthy pickup.
Pros
Stylish
Suitable grip
Made with sustainable materials
Comfortable
Cons
The shoe picks up scratches easily
3. NORTIV 8 Men's Ankle High Waterproof Boots – Best Ankle Support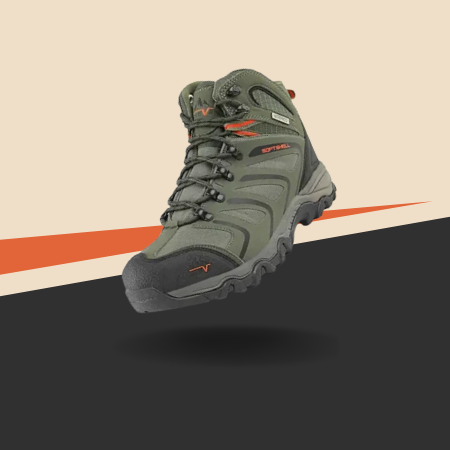 The Nortiv 8 waterproof boots are an excellent choice for hikers and hunters that often experience ankle issues due to their superb support. The interior padding cradles your foot and disperses the foot-to-boot contact, which adds to comfort significantly.
One thing that really stands out about this pair of boots is that they are very easy to clean, which is something that everyone moving through the wilderness often will appreciate. Their synthetic leather and micro-mesh exterior can be cleaned with water, brush, and a couple of minutes of your time.
These boots are also very comfortable and lightweight, and these features are crucial when it comes to hunting and hiking footwear. Apart from this, Nortiv 8s are also very durable waterproof, and considering the current price on Amazon, they are a real bargain.
Pros
Easy to clean
Durable
Comfy interior
Lightweight
4. XPETI Men's Thermator Mid-Rise  – Best Non-Slip Outdoor Boots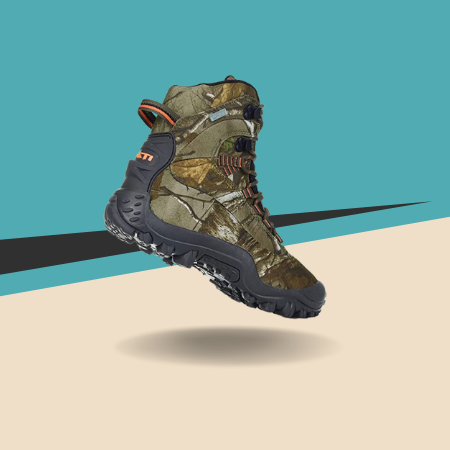 These boots are a perfect choice for hunters and hikers due to their full protection, which is essential. The ankle protection is another feature that makes this footwear really shine, and the overall comfort and security are superb.
The padding in the EVA midsole and the overall lightweight make these boots excellent for everyone that spends a lot of time outdoors or in the wilderness.
Putting them on and off is very easy since the manufacturer's provided a loop on the back of the shoe which adds convenience.
The boot is tough, reliable, and can withstand pretty much any type of weather condition. The waterproof membranes ensure that your feet are dry at all times, and this is one of the prominent features that make Xpeti Thermator really stand out.
Pros
Great grip
Superb water resistance
Durable
Comfy
Super warm
Cons
Poor quality of the laces
Sizing can be inaccurate
5. TIDEWE Rubber Hunting Boots – Best Waterproof Boots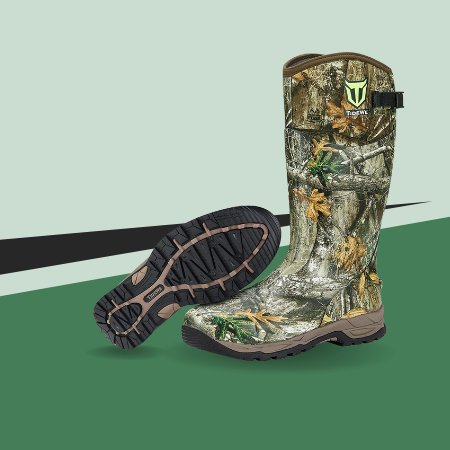 Coming from the Tidewe store, these rubber hunting boots are available in two colors and a variety of sizes for you to choose from. The thing that separates them from the competition is their reliability, and they protect your feet from mud, water, and dirt on a very high level.
They are very comfortable and leave enough room to tuck your pants into them during hunting or hiking. They are waterproof and thus provide excellent protection for your feet whether you are walking in rain or snow. The traction is also suitable, which is really important since you will likely move on slippery surfaces.
Apart from superb protection, this pair also provides comfort and support for your ankles. They do run a bit big, so make sure to check the measurements properly. They are really warm, and thus, are perfect for cold-weather.
Pros
Excellent water resistance
Superb comfort and support
Reliable
Very warm
Cons
The adjustment strap is not very durable
6. Rocky Men's Bearclaw 3D LTT Hunting Boot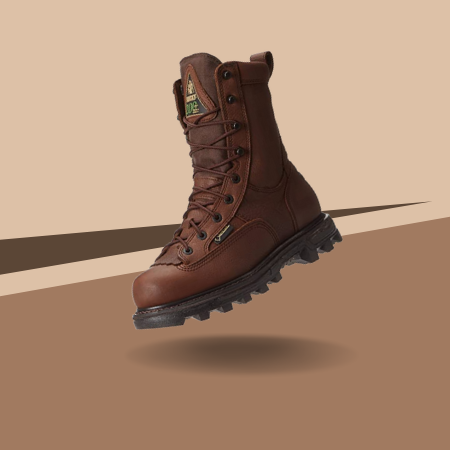 These boots are crafted using only premium leather, making them very durable and strong. This leather offers numerous advantages, such as protection, comfort, and excellent air circulation, which is much needed when it comes to hunting gear.
They provide excellent water resistance and keep your feet dry in various weather conditions. The boots boast Thinsulate insulation, which plays a huge role in keeping your feet warm as well, especially in cold weather, meaning you can go hunting or hiking without worrying your feet will get frozen.
The lace-up system allows you to adjust the fit more accurately due to its D-rings, hooks, and lace-to-toe pattern. The outsole provides excellent traction and grips very well on different types of slippery surfaces, which is very important for hiking and hunting gear.
Pros
Good air circulation
Completely water-resistant
Warm
Durable
Cons
The boots do not have a protective toe
7. Huntrite Men's Insulated Waterproof Hunting Boots, 400-gram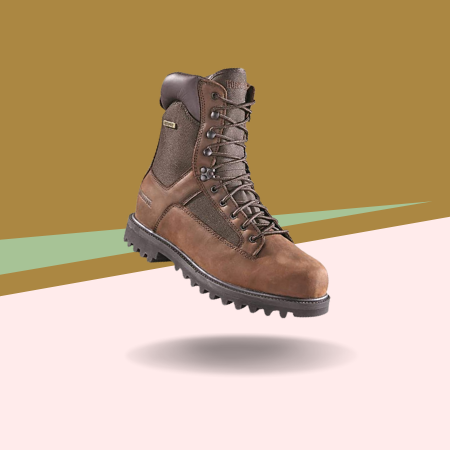 Coming from the Huntrite store, these insulated hunting boots are available in two colors and various sizes for you to choose from. Whether you use them for hunting, hiking, chores, or for simple everyday use, they perform really well and come at an affordable price.
These boots boast Thinsulate insulation that keeps your feet warm, especially in cold environments, and the waterproof membrane ensures that your feet will also stay dry and protected from rain or snow.
The bobbed outsole provides suitable traction, and oil-resistant dual-density rubber adds to anti-slippery properties. The boots also feature a wicking mesh lining that ensures the moisture will stay away from your feet and keep them comfy and dry.
Pros
Oil-resistant rubber lug
Removable EVA sole
Padded tongue and collar for extra comfort
Quality leather
Cons
Not the best warmth retention
8. Irish Setter Men's 2813 Gunflint II 10″ Hunting Boot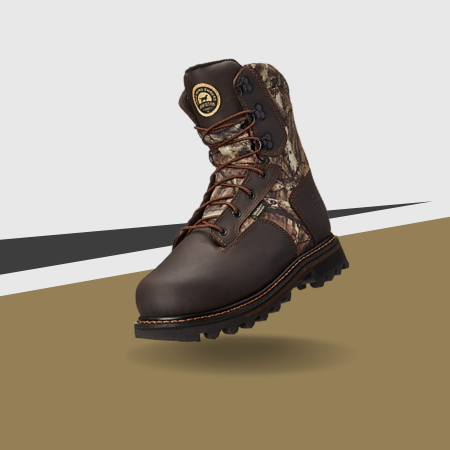 These hunting boots are unparalleled when it comes to protection from cold and harsh winter weather. The size and width are very precise, and they fit perfectly right out from the box and are very comfortable to wear on various surfaces. You can wear them pretty much all day long without feeling any foot ache.
The only drawback for this pair is that some users previously experienced issues with tightness around the ankle area, so ensure that you get the measurements properly. Other than that, they boast great water resistance and keep your feet warm during harsh cold days.
They do require some breaking-in time, but afterward, the boots will snuggly fit on your feet. The boots feature Thinsulate, which is the ultimate insulation for cold weather boots and keep your feet very warm. The dual-density carbon rubber outsole ensures that you get an appropriate grip, and it is pretty lightweight so that you will move with ease – excellent value for the price.
Pros
Waterproof
Retains warmth very well
Multi-directional traction
Cons
Some users experienced tightness in the ankle area
9. Guide Gear Hunting Boots for Men Waterproof Country Pursuit 9″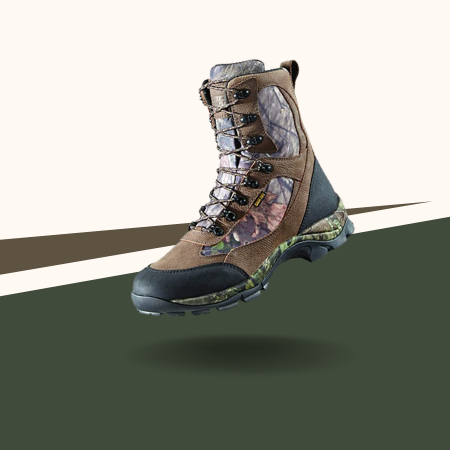 Coming from the Guide Gear store, these boots are perfect for hunting since they are very light and quiet when moving. Apart from being convenient in this aspect, they are very rugged durable and keep your feet warm and dry throughout various conditions.
They boast special Guide Dry technology that provides you with exceptional water resistance while also maintaining excellent air circulation and keeping the shoe breathable. The boots feature OrthoLite insole and moisture-wicking mesh lining, which adds even more to the comfort level.
The uppers are made of durable leather and nylon, giving the shoes a tough but at the same time lightweight exterior. Even when you wear this pair of shoes for an extended period, they will retain their shape and hold the structure together.
Pros
Superb cushioning and comfort
EVA midsole
Excellent water resistance
Good traction
Cons
It may be difficult to clean certain stains
10. R RUNFUN Men's Lightweight Waterproof Hunting Boot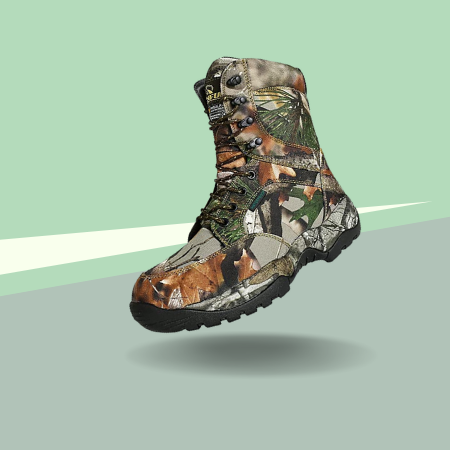 These lightweight all-around boots are a suitable choice for purposes such as hiking, hunting, or everyday wearing. Right out of the box, they seem pretty light, which is a highlight for pair of boots of this type. They do run a bit big in size, so ensure that you got your measurements right.
They come with insole inserts that make boots very comfortable with regular and thicker socks. They fit good and offer a decent amount of water resistance. The one drawback is that they could be warmer, but it is nothing that thermal socks cannot fix.
The outsole feels very stable and offers sufficient traction when moving on slippery and damp surfaces. The laces seem a bit flimsy, so it is smart to get an extra pair when going in the wilderness, just in case. Overall it is a good-looking and comfy boot that, is on top of it all, affordable.
Pros
Comfortable
Excellent for hunting
Good traction
Good-looking
Cons
Could be warmer
Laces are not very durable
Things to Consider When Buying Hunting Boots for Cold Weather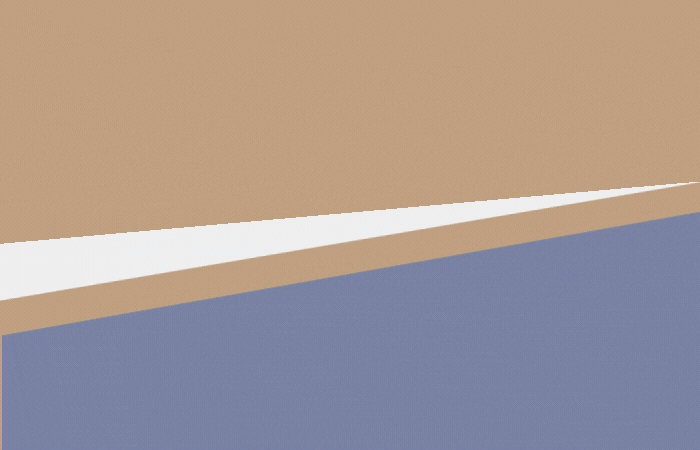 These were our top picks, but in order to make the right choice when purchasing this type of footwear, there are certain features that you should prioritize. To help you with this, we made a brief list of guidelines you should follow to get the best value in the section below.
Comfort
Since hunting can be really rough on your feet, comfort is the number one thing to consider when purchasing adequate footwear. Wearing an uncomfortable pair of boots will affect your overall performance, so make sure you get the sizing right.
Breathability
When standing on your feet for long periods during hunting, the appropriate air circulation is a must. If the shoe is not breathable enough, your feet will start sweating, cause you discomfort, and start smelling.
Certain boots from our list effectively wick away the moisture, so if you have naturally sweaty feet, breathability should be one of your main priorities if you have naturally sweaty feet.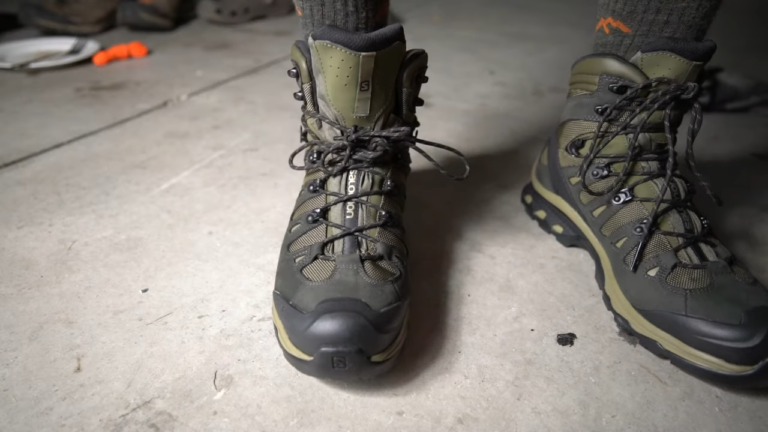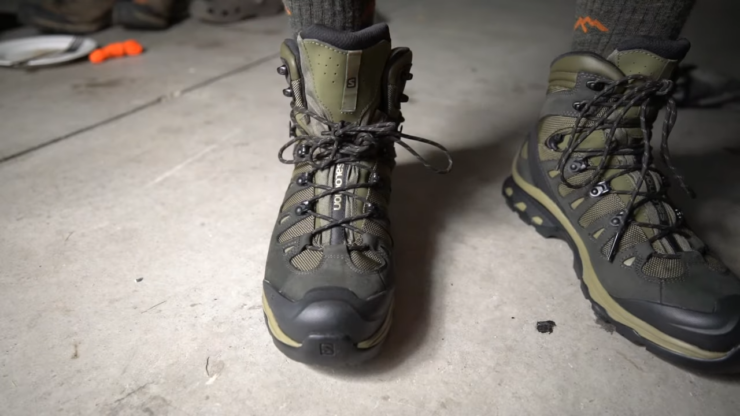 Durability
Hunting boots take quite a lot of beating, especially because you need to cover quite a bit of distance while wearing heavy loads. Look for boots that are made of high-quality and durable materials that can withstand extreme conditions.
Boot Length
The style of the boot is very important, and which one you will choose largely depends on the intended purpose of the product. Low-cut boots are great for hunters that need to be agile while hunting their prey.
Ankle-high boots provide excellent ankle support and are great for all hunting applications. Apart from the support, Knee-high boots keep your feet well-protected from mud, moisture, and dirt.
Frequently Asked Questions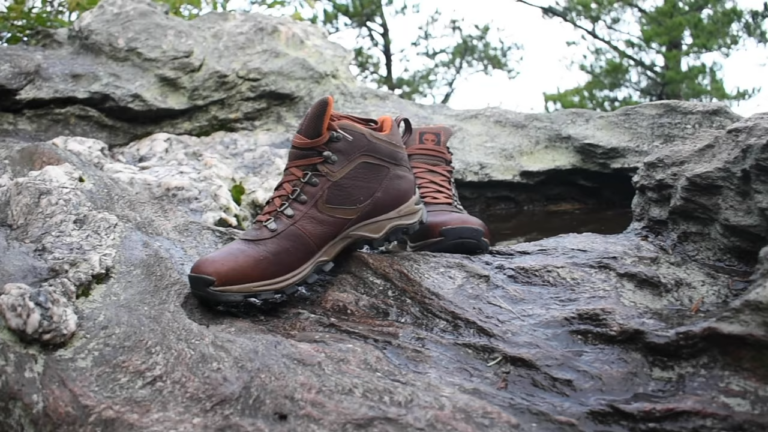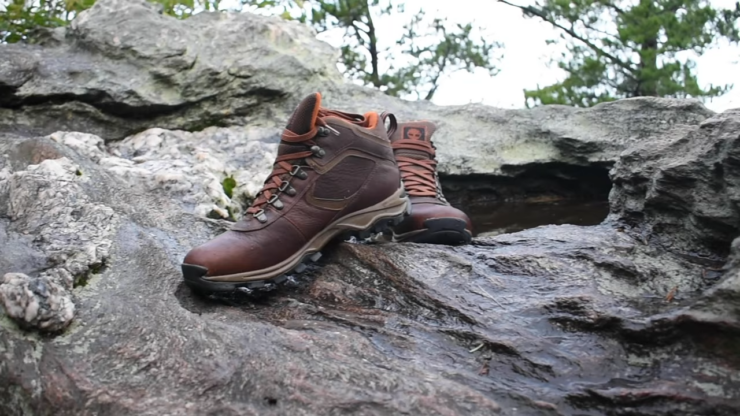 Which hunting boots are good for cold weather?
When it starts snowing and raining, your boots should provide you with extra protection. Look for boots that have at least 1000 grams of insulation which will make your hunting session extra comfy, and your feet will remain warm.
Should I buy a size up when purchasing hunting boots?
This largely depends on the manufacturer you plan to purchase the boots from. Unless the supplier does not state otherwise, you should not purchase bigger boots. The smartest course of action is to consult the manufacturer or to look for second opinions online.
Why is it important for the hunter to have rubber boots?
This is not a norm, but it is something that is worthy of consideration since rubber boots offer various benefits. First of all, they are scent-free, waterproof, and offer excellent traction, which is very important since you will likely move on slippery surfaces.
How high should hunting boots be?
There is no strict rule about this, but hunters generally opt for 9 to 10 inches boots. They provide sufficient stability ankle support, and the added elevation keeps snow, moisture, mud, and other aways from your feet.
What is the best way to maintain hunting boots?
Since hunting boots are exposed to various terrains and weather conditions, maintaining them is extremely important, especially if you want to prolong their lifespan. Use wax or oil to waterproof them regularly.
If you use leather boots, it is essential to add some moisture to leather, which will restore its natural fibers. When the hunting season ends, make sure to clean and dry them thoroughly before storing them aside.
Final Words
Purchasing adequate footwear is essential, not only for your hunting performance but for your feet' well-being and overall health as well. It is a very important purchase, and once you get the suitable pair, you will never again go hunting without it.
We hope our guide will help you make an educated choice or at least narrow down your research. Keep in mind the important features we have listed, look for second opinions, and you will, without any doubt, find the perfect pair that will give you exceptional value.
Here are some other interesting models that you might like: