Each morning starts with the bathroom, the appearance of which can set the mood for the whole day. After your work, you can come there and relax. A yellowed bathroom, collapsing tiles, and protruding pipes are one thing, whereas a harmonious combination of a bright and clean room with new plumbing and underfloor heating is quite another. So, let's find out how to arrange a bathroom so that it gives only positive impressions.
How to Choose Bathroom Furniture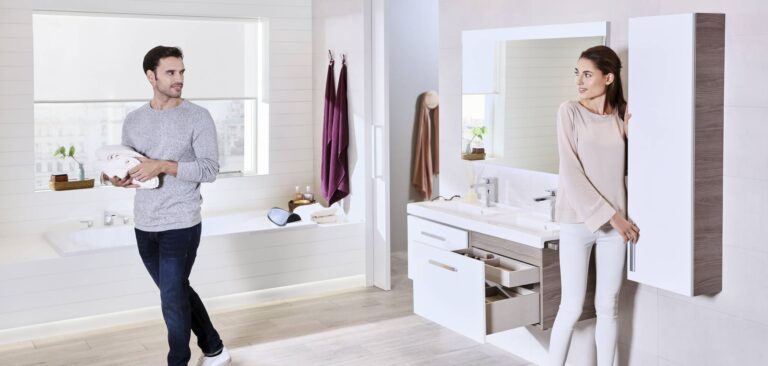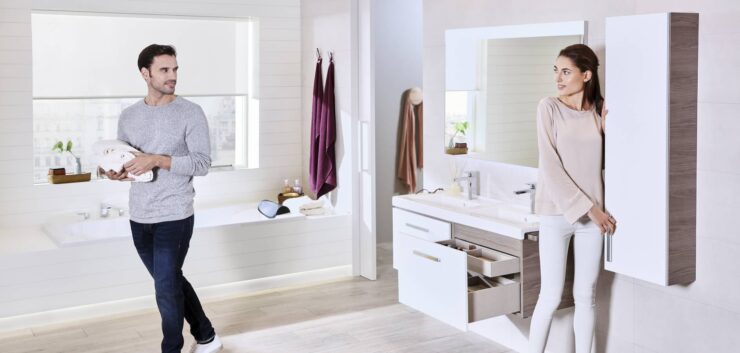 In the hustle and bustle of everyday life, many people don't pay much attention to the interior. After all, no matter how beautiful and cozy the house is, each of us needs moments of privacy. When we come home after a hard day's work, what do we dream about? Of course, about the privacy and peace that can be fully felt in the bathroom. Everything that surrounds us in this room plays an important role in forming a positive mood. The bathroom is a compact room, hence the high requirements for the environment.
As a rule, the standard set of such furniture includes a washbasin, a hanging cabinet, most often with a mirror, or a pencil case that replaces them. If there is no longer enough space for the cabinet, then shelves of various configurations are at your service. Furniture for small bathrooms is assembled using modules of various sizes, from which you can always choose the right ones for your room. Of course, a modern bathroom is impossible without a mirror. There are special ones that don't sweat: when leaving the shower, you don't need to wipe anything. The mirror, among other things, has one useful property — it increases the space. So, it doesn't hurt to hang a large, full-length mirror in the bathroom.
Bathroom furniture should be beautiful, high-quality, and functional. These are the things that you shouldn't skimp on. After all, furniture can create a unique image and exclusive design for your bathroom. The most significant thing to pay attention to when buying bathroom furniture is excellent quality and attractive appearance. Only the optimal combination of thoughtful design, quality material, and reasonable price will allow you to buy what meets your wishes and taste. Only in this case, the bathroom furniture you choose will last long enough until you decide to buy a new one.
In the market, bathroom furniture is represented by both leading foreign manufacturers and domestic ones. Furniture and plumbing from domestic manufacturers are practical, functional, and affordable. The use of advanced technologies allows manufacturers to create furniture of various designs in size, shape, and color. Cabinets and nightstands from domestic manufacturers will perfectly fit into the interior of small bathrooms and make them more practical. Creating plumbing fixtures and furniture, leading domestic companies have also taken care of safety: it fully meets all the standards.
Bathroom furniture produced by foreign companies is excellent for private homes and modern apartments since such plumbing often has large dimensions. Bathroom furniture made by global manufacturers is available on the market in various price ranges, designs, and sizes. They are more expensive than domestic manufacturers. However, it should be noted that imported furniture is designed with higher safety standards. In addition, furniture and bathroom accessories for people with disabilities are produced abroad.
Speaking about the design, one can also have custom bathroom cabinets in Toronto if they want. To create a unique, stylish bathroom, tiles and plumbing alone will not be enough. Lovers of anything unusual can opt for extravagant bathroom furniture with their own design in bright red or green colors. To match them, you can choose a variety of shelves and accessories.
Good Bathroom Furniture Features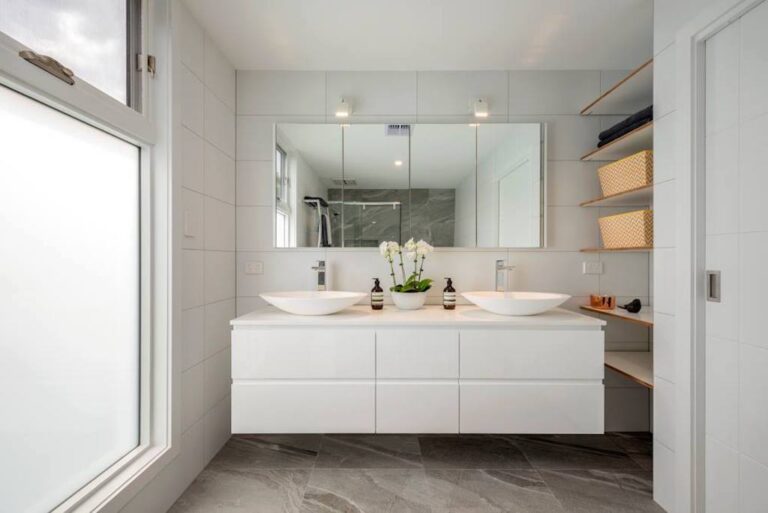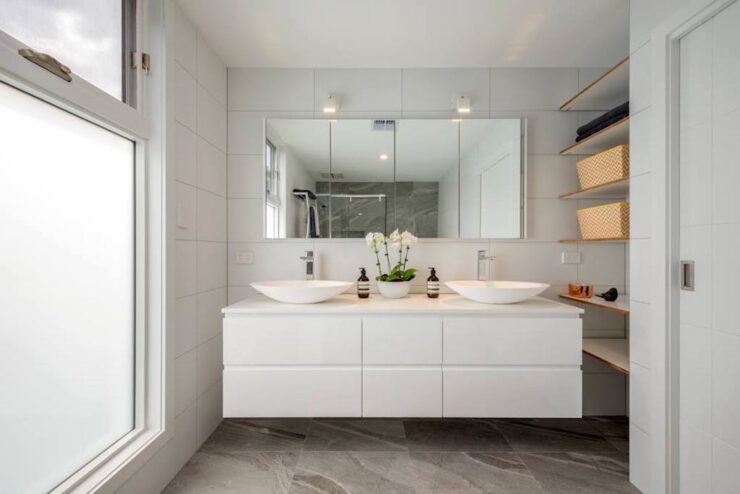 Everyone sets the rules for choosing the right plumbing fixtures, furniture, and bathroom accessories for themselves. It's difficult to advise something – here you should trust your own tastes. There are many different styles of interior design and it's simply impossible to cover everything, you just have to choose from the entire range what suits you best. However, there are some things that you can't order or make at will. This is quality. Therefore, before you buy your favorite bathroom furniture, you need to accurately determine the quality of the products.
First, pay attention to the hardware. Hinges, handles, legs made of chrome-plated metal form good quality furniture. However, plastic handles with chrome or gilding will lose their appearance after a few months of operation. Secondly, see how smooth the paint is and whether there are any smudges. If one of these two most important rules isn't followed, you are not looking at the furniture of the best quality – you need to look for another bathroom set. If everything is OK with the fittings, you can conduct further research. Pay attention to Alliance Millwork Products, it can be found at the link alliancemillwork.ca that makes a bathroom fresh and unique. It's one of the available solutions in the market.
Today, the choice is almost unlimited, you can use whatever your heart desires.
The minimalist style implies the presence in the interior of only the most necessary things using glass, steel, and plastic.
Ethno-style is a combination of stone and wood, wicker fittings, and natural colors. The most common ethnic style is Japanese – it has perfect colors, smooth surfaces, and a clearly structured space.
The classic style includes low-key tones, majestic marble and granite surfaces, Venetian plaster, and decorated panels or curbs.
The Provence style includes warm colors, antique furniture, floral ornaments, and only natural finishing materials.
The high-tech style is, first of all, convenience that is automated to the point of unreality.
Most plumbing equipment manufacturers produce collections in these styles, whereas special stores around the world are often divided into themed halls. Classic bathroom furniture is distinguished by streamlined shapes, smooth lines, and decorative inserts. The most common color scheme of this style is chocolate beige or snow (white and blue). This is the so-called personification of the unity of the concepts of "purity" and "water". High-tech is characterized by deliberate geometric rigor, an abundance of metal and glass, frosted chrome, and almost complete absence of decorative details.
Space Optimization
Space in our homes, especially in bathrooms, is premium. Before even considering aesthetics, accurately measuring your bathroom space is a non-negotiable first step. A tape measure and a rough sketch can save you from the pitfall of purchasing ill-fitting furniture. It's not just about getting furniture to fit, but also ensuring the bathroom remains spacious and easy to move around in.
For those with petite bathrooms, there's magic in space-saving solutions. For instance, wall-mounted cabinets, popularly seen in modern European designs, give an illusion of more floor space. Similarly, corner units can seamlessly utilize areas that often remain unoccupied. Take inspiration from tiny house designs; they're masters at efficient space utilization.
Durability and Maintenance
Bathrooms are unique. They endure steam, spills, and consistent usage. When selecting bathroom furniture, durability isn't just desired, it's essential. For instance, solid wood or bathroom glass splashback that's treated for moisture resistance, and stainless steel fixtures, can withstand bathroom rigors. But durability is just half the battle. Maintenance ensures longevity. Opt for surfaces that resist watermarks and are easy to wipe, making cleaning a breeze. Glass and laminate surfaces, for example, are both stylish and simple to maintain, ensuring your bathroom stays fresh and gleaming for years.